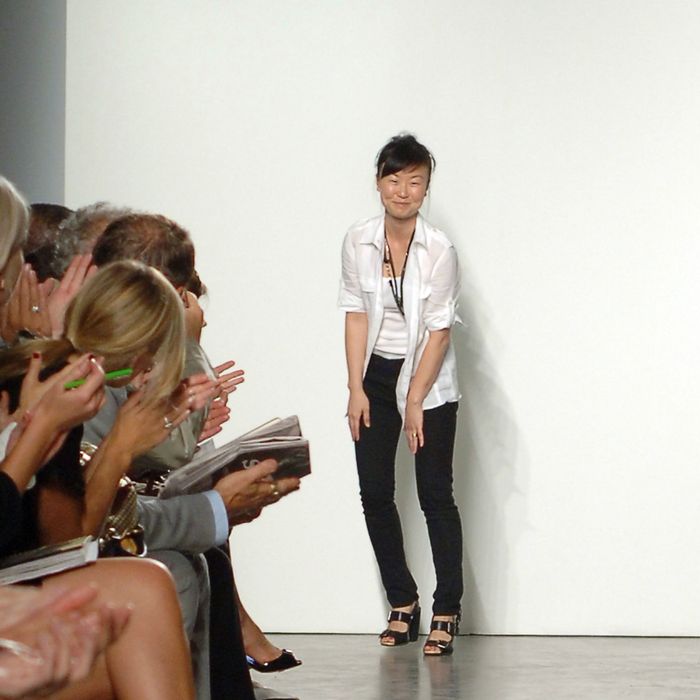 Doo-Ri Chung takes a bow.
Photo: Andrew H. Walker/2007 Getty Images
It's been a huge year for Doo-Ri Chung, who was recently named the next featured designer for Macy's Impulse. This announcement came just days after Michelle Obama wore one of her pieces — a gorgeous, floor-sweeping purple gown — to a state dinner with the South Korean president. Chung, who is known for her artfully draped jersey, spent her formative years at Geoffrey Beene, where she worked directly with the late Mr. Beene as well as Alber Elbaz in his pre-Lanvin days. She took some time out of her design schedule to tell us about her forthcoming projects, as well as her 6-month-old baby boy.
Congratulations on your new baby — how old is he now?
He's about 6 months old. It's been a lot of work. I thought it was hard just being pregnant, but having a baby is really exhausting.
Is he a stylish baby?
At first, I would just dress him in anything that opened in the front. But now I'm really into this label Splendid. They make cotton T-shirts and stuff like that for adults, but they also make really cute baby clothes.
What's the proudest moment you've had in your career so far?
The first time I saw a woman wearing a piece of clothing from my collection. I saw her on the street and my mouth just dropped. I couldn't say anything to her, but I was just so excited, and she looked amazing.