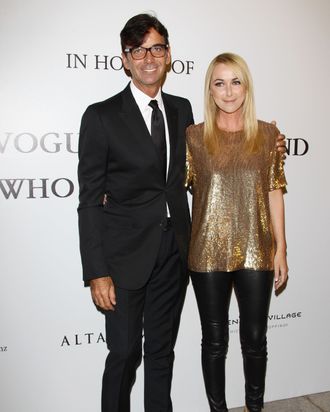 Patrizio di Marco and Frida Giannini.
Photo: Vittorio Zunino Celotto/2011 Getty Images
Gucci creative director Frida Giannini and the company's CEO, Patrizio di Marco, have announced publicly that they've been a couple for over two years. According to di Marco, their "relationship changed on a June 2009 trip to China" (ooh), but they kept it a secret until now to protect their professional reputations. As the FT's Vanessa Friedman points out, this wouldn't be the first time that romantic partners ran a fashion house together (there's Miuccia Prada and Patrizio Bertelli, Yves Saint Laurent and Pierre Berge, and so forth), but it is the first time that said couple are not the founders of the label, but rather employees of a larger, publicly listed company (in this case, it's vast French luxury group PPR). They were worried that news of their workplace romance would make shareholders nervous, although they did promptly come clean to their boss, PPR chief François-Henri Pinault.
Reports the FT:
Mr di Marco says he went to Rome to speak to Mr Pinault; Ms Giannini spoke to Mr Pinault separately. Both Mr di Marco and Ms Giannini were, they say, fully prepared to leave if that was what was required, but Mr Pinault "was very supportive".

According to Mr Pinault, "this is a family business - it was started by my father, and I know how that can feel and seem to the outside world, but I also know how much that makes you be strict with yourself. And I knew them, so I knew if anything this would make them more demanding with themselves."

Giannini and di Marco have since told many of their employees privately, and have decided to make the news public, presumably because things are pretty serious between them and also because, well, it's better to come forward than get ratted out and look like you've been lying. Says Giannini:

You don't want to leave the door open for any criticism. There was transparency, but it was not universal; it was logical. Now there will be more. But that doesn't mean that Patrizio and I will start to kiss in a meeting.

Di Marco says that the relationship definitely shouldn't worry shareholders, since their relationship is "very serious," and it may even make the company more efficient, since they don't have to schedule meetings with one another. Aw.