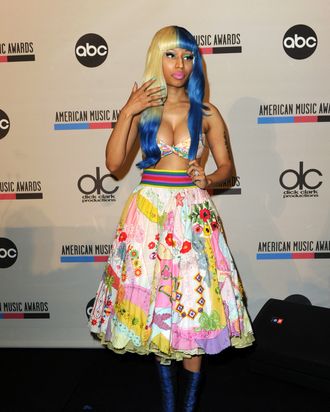 Nicki Minaj.
Photo: Kevin Winter/2011 Getty Images
One of the most-searched Halloween costumes on Google this year — probably by all the people who dressed up as Lady Gaga the past year or two — is Nicki Minaj. The only problem with a Nicki costume is that it's not easily found in ready-to-assemble form in plastic bags in Halloween stores. So, those wishing to be her for Halloween will have to be resourceful. The Daily News culled a few Nicki costume tips from YouTube:



In another tutorial, a Minaj costume expert even shares how to achieve the rapper's signature plump derriere.

"What's the secret? Diapers. Just stuff 'em in there and use like five. You can make it as big or as small as you want. … I think that's going to be my favorite part … just having a big ass for Halloween," the YouTube poster declares in her nearly 15-minute video.
Nicki Minaj Halloween costume is most popular Google search ahead of Charlie Sheen, 'Pan Am' [NYDN]