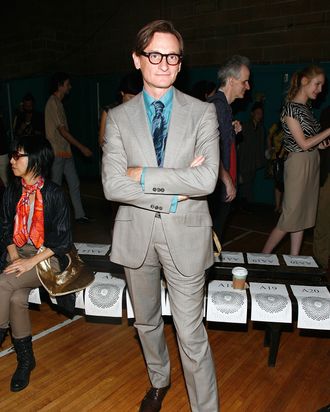 Hamish Bowles, with tie.
Photo: Andy Kropa/2011 Getty Images
Following Charles Askegard's emotional final performance with the New York City Ballet on Sunday, the principal dancer's wife Candace Bushnell threw a retirement party for him at Landmarc. Among the guests was Vogue's Hamish Bowles, who chatted with us about childhood dance-class trauma, among other things.
Did you ever take dance lessons?
I did. I did ballet lessons when I was a little boy, yeah.
Were you any good?
Well, my teacher wanted me to audition for White Lodge, you know, the Royal Ballet School. But my parents didn't think that was a great idea, so they, um, actually told me that my dance teacher had retired, and that there would be no more dance lessons. And stricken a few years later, they sort of confessed. I would have had far more shapely thighs at this particular moment in time. I do regret that, but I'm very happy the way my career veered.
How did you deal with the heat in Paris during the shows?
It was challenging because I literally brought a fairly extensive wardrobe of high tweed and winter-woolen clothes. And, of course, it's impossible to buy anything, because it's only fall merchandise, so yeah, there was a black jeans-and-shirt-with-no-tie moment, which I think is unprecedented on a Sunday.