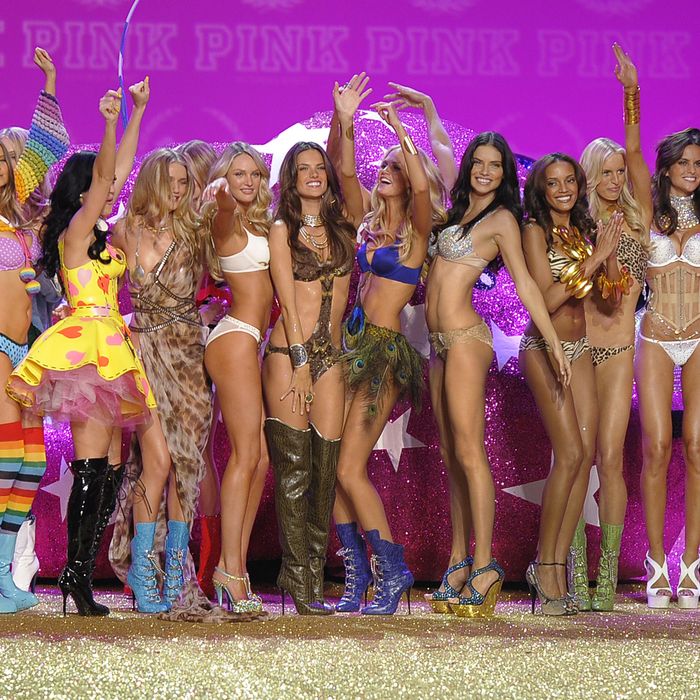 The finale of last year's Victoria's Secret Fashion Show.
Photo: TIMOTHY A. CLARY/2010 AFP
Now that we're running out of things to analyze from last month's whirlwind of foot-destroying spring collections, we can finally turn our attention to the annual extravaganza that tricks the general public into thinking that all runway shows are like a combination of Cirque du Soleil and a pop concert: the Victoria's Secret Fashion Show. This year's musical guests — which are the only things that really change about the show from year to year — include Kanye West, who might bring a more high-fashion vibe than previous performers like Katy Perry, Akon, and the Black Eyed Peas (then again, he might not); Maroon 5 will also perform. And because they always have to pick the Victoria's Secret Angel who most recently gave birth to wear the extra-special diamond-encrusted lingerie, just to hammer home their awe-inspiring absence of cellulite, Miranda Kerr has been given the honor of encasing her boobs in the $2.5 million "Treasure Fantasy Bra" this year. The show airs on Wednesday, November 29.
Miranda Kerr to return to Victoria's Secret catwalk with a $2.5m bang [Telegraph UK]