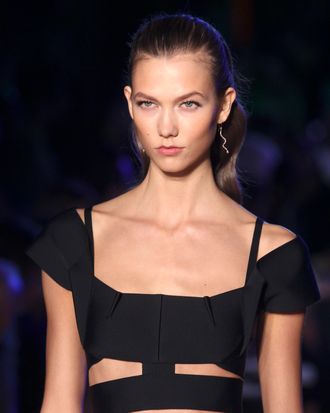 Karlie Kloss.
Photo: Pierre Verdy/AFP/Getty Images
The best thing about Thanksgiving being almost here is that the best reason to avoid all the food, the Victoria's Secret Fashion Show, is also almost here, too! Woo! And the very intense casting process is underway, trying the nerves of the world's top models, who have no guarantees they'll be in the show. Well, except Karlie Kloss, who sounds like a shoe-in, based on what casting director John Pfeiffer told Modelinia:
"Just because a girl has walked before doesn't mean she'll walk again. Everything from their bodies to their overall look changes so we have to see them again and again," John noted. That being said, he is thinking about the Victoria's Secret Fashion Show all year long, so by the time the castings role around he already has a number of girls he's looking forward to seeing. "Bregje [Heinen] is finally 18 so we were really excited to see her. Karlie [Kloss] is also of age this year, so hopefully she'll walk the show."

Apparently girls can't walk in the show until they're 18. Karlie is actually 19 so it's curious that she sat last year out, being as fashion-famous as she is. Anyway, it doesn't sound like Lily Donaldson is taking her spot for granted. "I think anyone would and should be nervous when walking in front of people in a bathing suit, even if you know all the directors," remarked Lily Donaldson, who walked the show last year. Lily's been out of commission for the past four months due to a horse riding accident, so the Victoria's Secret show will be her first time back on the runway. "I'm really excited to get back to work, and I loved my outfit last year so we'll see [what happens]," she said.

The full lineup for the show will be determined this week. This frees up models who are already certainly booked for it, like Miranda Kerr, to spend lots of time working on their Halloween costumes and parties, since Halloween is, weirdly, now a very important day for models.

The 2011 Victoria's Secret Fashion Show Casting Begins! [Modelinia]