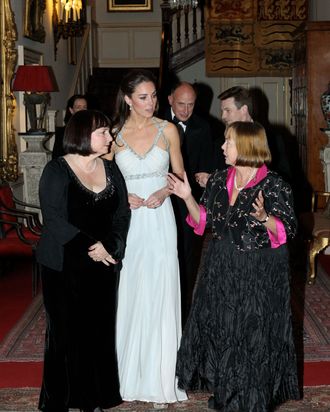 Photo: Handout/2011 Clarence House
Finally Kate Middleton allowed some new photos of her in a brand-new dress to be released to the world. The white spaghetti-strap frock by Amanda Wakely was one part wedding gown (for non-princesses, that is), one part pageant queen, and one half-part risqué. It's hard to remember Kate allowing herself to be photographed in something so bare since those old pictures of her on a yacht in a white bikini came out just before the wedding. If you want your version of her new look now before labels get their knockoffs out the door, we found vaguely similar versions of it at Caché and David's Bridal. The Clarence House party was Kate's way of promoting the In Kind Direct charity. See photos of her greeting her guests, and read things she just might have said in the slideshow.
See more of Kate Middleton's looks in the Kate Middleton Look Book.