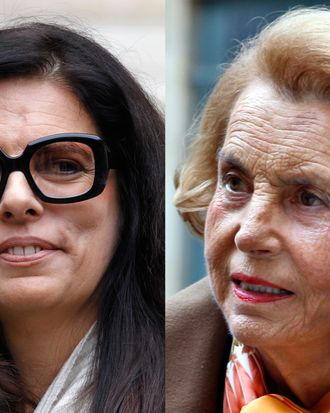 Françoise Bettencourt-Meyers and Liliane Bettencourt.
Photo: FRANCOIS GUILLOT/2011 AFP
Liliane Bettencourt, the 89-year-old heiress to the L'Oréal fortune and richest woman in France, has been ensconced in legal battles with her own daughter, Françoise Bettencourt-Meyers, over the family's money for the past two years. Françoise began vying for control of her mother's financial affairs after discovering that her mom had given away over $1.3 billion in artwork and life insurance policies to photographer François-Marie Banier, for no apparent reason. Liliane argued that she would rather die "or live abroad" (equivalent fates, apparently) than be placed under the "suffocating" care of her daughter, but this week French courts found that her state of dementia rendered her incapable of taking care of herself. She's been placed under the control of her daughter and two grandsons, with whom she's said to be close; her lawyers say they'll appeal the decision. The ruling is said to have no bearing over the ownership of L'Oréal Inc.
L'Oréal heiress Liliane Bettencourt loses control of her fortune [Independent UK]