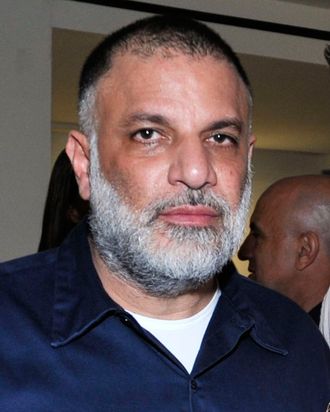 Louie Chaban.
Photo: Andrew Fitzsimons/? Patrick McMullan
This past summer, modeling agency Elite New York saw a mass exodus of agents, many of whom took their best (and most profitable) faces along with them. Coco Rocha, Alessandra Ambrosio, Caroline Brasch Nielsen, and Kate King, among others, devotedly followed their agents to Wilhelmina, DNA Models, Marilyn Agency, and Ford Models, respectively (with the exception of Brasch Nielsen, who was placed at Marilyn). With many of their notable faces now gone, Elite's board suffered this spring 2012 runway season, with nary a single new face landing on a major catwalk.
But the agency seems poised for a comeback thanks to a new hire, agent Louie Chaban. Arguably one of the best in the model brokering business, Chaban's successes include the rise of Agyness Deyn; he also helped navigate the careers of Karen Elson and top nineties model Christina Kruse. Chaban, who comes to Elite from Women Management, has brought several of his top clients to Elite with him, including Deyn, Elson, Kruse, Cameron Russell, and Jamie Bochert, according to Elite's blog. Guess spokesmodel Alyssa Miller has also joined Elite's board this week, leaving her former agency, Marilyn. Whether Elite will regain their former status remains to be seen, but this certainly is a strong start in the rebuilding of one of modeling's best-recognized brands.