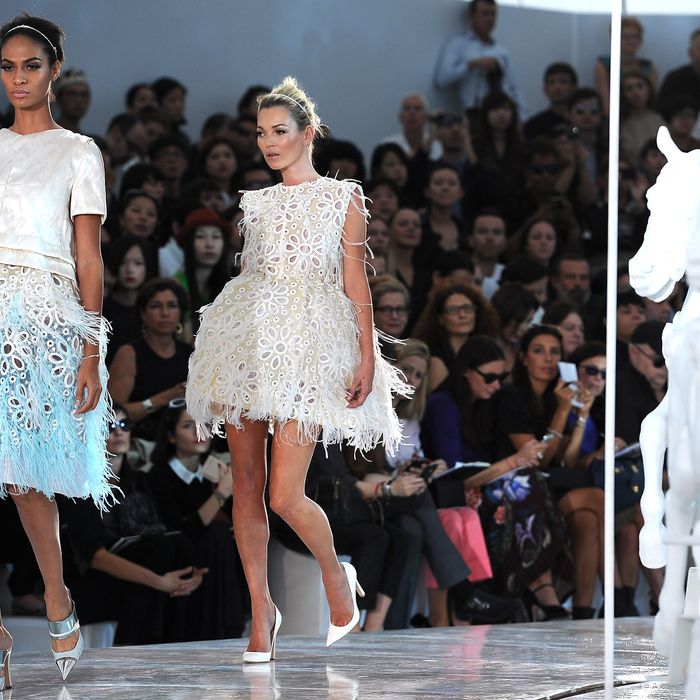 Joan Smalls, Kate Moss, and carousel horse.
Photo: Pascal Le Segretain/2011 Getty Images
Kate Moss closed the Louis Vuitton show in Paris today, but unlike last season, she was sans cigarette, bondage-free, and wore a feathery white dress. According to Marc Jacobs, it was Moss's idea to walk again. "[I have] an attitude about being consistent, so I thought, you know what, we're going to consistently close the show with Kate Moss," he explained afterwards.
The show commenced with a curtain drawing back to reveal a life-size white carousel, complete with models perched atop the horses. Jacobs explained to the Telegraph

There's a carousel in the Tuileries, and I'm a hopeless New York Francophile, and it's very Paris … It's also a bit of a metaphor about this cycle of fashion and how it goes around and around, and regardless of what your references are, whatever you choose to look at, it's just cyclical…We had one of the horses in the office, because all the girls had to pose on it during the fittings. So I did get on it and did some crazy poses.
See the Complete Louis Vuitton Spring 2012 Collection
See Video of the Louis Vuitton Spring 2012 Collection

Does this look like a man about to jump ship from Louis Vuitton? You decide [Telegraph UK]