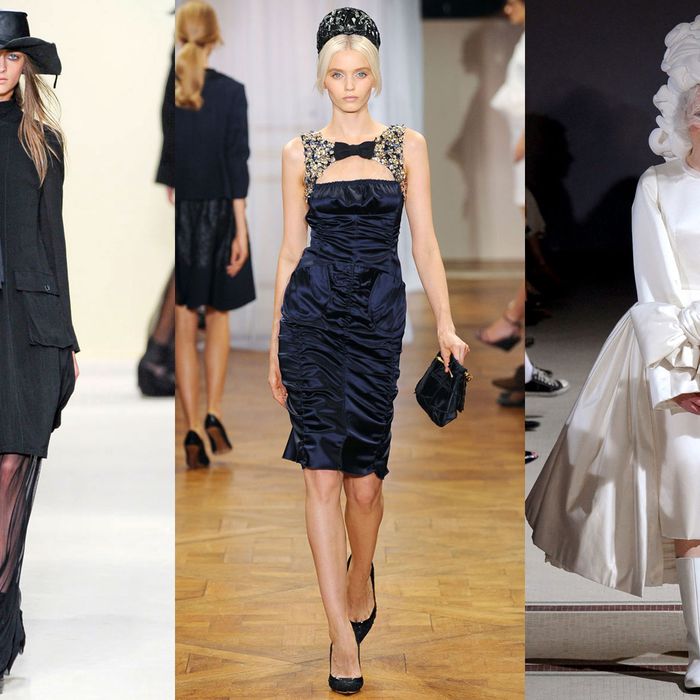 From left: spring looks from Ann Demeulemeester, Nini Ricci, and Comme des Garçons.
Because I am not invited to the Balenciaga show (how fun is it to travel 4,000 miles across an ocean just to be dumped from a guest list?), I am not in the house when the benches collapse and the audience is forced to stand for the duration, causing one waggish watcher to quip afterwards that this is the second forced standing ovation of the season, referring to the notorious exit drama at Tom Ford in London.
But I am in the bleachers at Dries Van Noten, where a charming collection involving couture shapes and photo-printed forests is presented with a soundtrack that features Elvis's "In the Ghetto," a choice so odd and brain-dead (well, it was brain-dead even when Presley first sang it) that it has an oddly uplifting effect on the proceedings.
See the Complete Balenciaga Spring 2012 Collection
See the Complete Dries Van Noten Spring 2012 Collection
See the Complete Nina Ricci Spring 2012 Collection
See the Complete Rochas Spring 2012 Collection
See the Complete Ann Demeulemeester Spring 2012 Collection
See the Complete Comme des Garçons Spring 2012 Collection