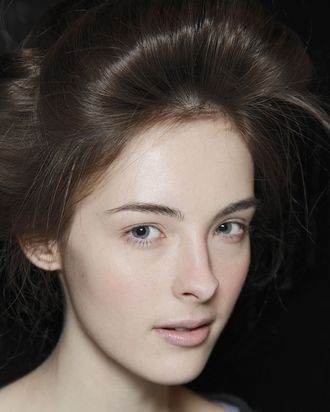 Seventeen-year-old Allaire Heisig got her big break when she closed the fall 2011 Marc by Marc Jacobs show. A few months later, the Long Island–born beauty flew to Paris on a whim and scored a slot on the Valentino couture fall 2011 runway. Heisig was then asked to shoot with revered photographer Deborah Turbeville for Italian Vogue's September 2011 issue. But this precocious teen has her priorities straight — the self-professed bookworm refuses to give up on her education, choosing to juggle modeling and school instead. Which explains her absence during the spring 2012 European Fashion Weeks, after she walked for the Philosophy di Alberta Ferretti, Theyskens' Theory, and 3.1 Phillip Lim shows in New York. We met with Heisig pre-Fashion Week to discuss couture fittings, her super-secret brownie recipe, and the games one sometimes has to play in the modeling business.
Last season, you closed Marc by Marc Jacobs's fall 2011 show; what was the process like?
Marc Jacobs has a very intense casting process, where you have to go back multiple times. I actually did the looks for the label, which is when they design the clothes around a certain model's measurements. I worked with them a lot during that time; it was almost like working with a family because everyone got along so well with each other.
Explore other rising stars (plus all the big names) in our extensive Model Manual, featuring runway pics, glamorous editorials, model bios, career timelines, and more.