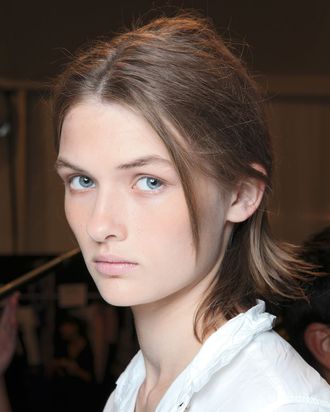 Seventeen-year-old Lara Mullen was scouted by Premier Model Management a mere two weeks before New York Fashion Week this past September. Born and raised in the county of Northamptonshire, England, she was initially unsure about her potential as a model, but decided to give it a go, flying to New York without any formal training, yet scoring catwalk slots at Alexander Wang, Vera Wang, and Theyskens' Theory.* On her home turf in London, the 5'11" model met with revered casting director Russell Marsh, who booked her for Richard Nicoll and Jonathan Saunders, as well as the coveted Prada exclusive for Milan Fashion Week. Mullen's final leg in Paris cemented her status as this season's breakout star when she walked for a select group of top designers: Chloé, Givenchy, Dries Van Noten (also cast by Marsh), and Céline. In her first sit-down interview since the spring collections, Mullen opened up about her extra-large feet, working with Madame Miuccia, and keeping up with her schoolwork.
If you had to pick one show, which was the most memorable?
Alexander Wang in New York was the first fashion show I had ever walked in, so that was memorable, and the Prada exclusive was such a huge opportunity for me. However, one of my favorite stories would be from the Givenchy show, when my shoe broke before the run-through. A very chivalrous Gisele Bündchen rescued me! She told the dressers, "She needs new shoes!"
*This post has been corrected to show that Northamptonshire is a county, not a town.