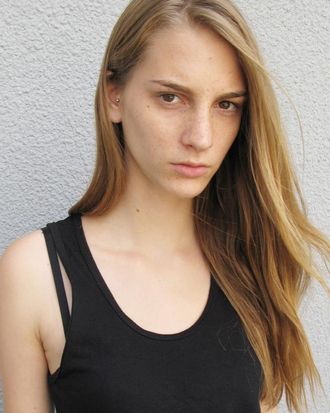 With her traditional Greek features and freckled skin, 17-year-old Ros Georgiou is one of the more memorable faces we've met this season. Georgiou, whose mother is Dutch, originally debuted at the fall 2011 Céline and Dries Van Noten shows, but her spring 2012 Calvin Klein exclusive made her a face to watch. The nearly six-foot-tall model was a perfect fit on Milan's hard-to-book Marni, Versace, and Jil Sander runways. And when the shows wrapped, off she went to a shoot with Paolo Roveri for British Vogue. When we met with Georgiou amid her Calvin Klein fittings, the aspiring journalist opened up about what she'd like to change about the industry and what she misses most about Greece while traveling abroad.
You're the first Greek model we've met.
I know. I get that at every casting I go to. We only have two Greek models that do international work, but it's not high fashion. The famous Greek models are more commercial with boobs and swimsuits — Playboy playmate types. I hate that. I hope to change this soon.
Explore other rising stars (plus all the big names) in our extensive Model Manual, featuring runway pics, glamorous editorials, model bios, career timelines, and more.