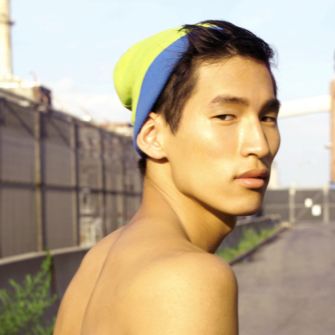 When South Korean model Jae Yoo walked for Calvin Klein's fall 2011 menswear show, he was the first male Asian face to do so. This year, the 22-year-old neuroscience undergrad has been shot by Steven Klein for Vogue Hommes Japan and also modeled for American Eagle. At the spring 2012 menswear shows, Yoo booked runway gigs at Dolce & Gabbana, Bottega Veneta, Givenchy, John Galliano, and, once again, Calvin Klein. Domenico Dolce and Stefano Gabbana then booked the 6'2" model to pose for Antidote magazine's current issue, alongside their other favorite male faces like Adam Senn and Noah Mills. We met Yoo last week to talk about his aspirations in dentistry and irrational fear of cucumbers.
Tell me a bit about your childhood.
I was born in Busan, Korea, and I lived there until I was ten or eleven, when we moved to New Jersey. I have two older sisters that were all born in Busan, and now they're all based in New Jersey as well. When I was a little kid I was very outgoing, and I had to be a leader of everything. I used to beat up little kids.
Explore other rising stars (plus all the big names) in our extensive Model Manual, featuring runway pics, glamorous editorials, model bios, career timelines, and more.