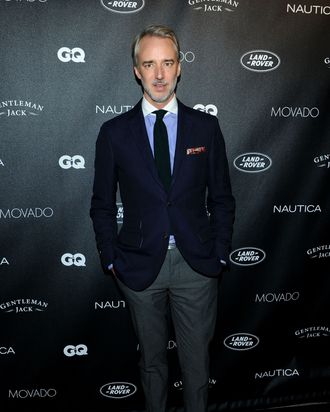 Michael Bastian.
Photo: Larry Busacca/2011 Getty Images
At last night's GQ Gentlemen's Ball in New York, we caught up with a very dapper-looking Michael Bastian, who won the 2011 CFDA Award for Menswear Designer of the Year. He elaborated on the physical CFDA trophy, which is more elusive for its winners than you'd think, as well as his penchant for pedicures and mentholated body scrub.
So are you still amazed by your CFDA Award, or do you not think about it anymore?
I am amazed by it. It's on my desk, and I stroke it every now and then; I can't believe it's real. It also took a month or two for it to arrive.
Oh, you don't carry it home from the award ceremony?
No, no. The whole process is such a weird situation, because you go up there, they hand you something, you do your speech, you walk through that gauntlet of press interviews and then this very sweet girl from the CFDA is like, "Thank you!" and takes it back.
How much grooming do you do? Do you moisturize and use concealer?
I have a very wonderful bath ritual. Like, now that it's cold I'll take a bath, and trim my nails and do a body scrub. I use this Clinique stuff that feels like sandpaper and smells like bubblegum. It's the women's line, and it's all mentholated and minty fresh … Should I be saying all this? This is very confessional.