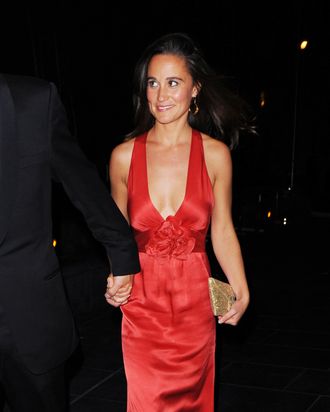 Pippa and some inner boob.
Photo: Tony Clark / Splash News/???? www.splashnews.com
It was really only a matter of time before Pippa, whose bottom made headlines even when loosely swathed in multiple layers of heavy white silk (and who was allegedly pantyless at the Temperley show two weeks ago), would bare her modest cleavage for the world to see. And why shouldn't she? After all, she's in her mid-twenties, is in great shape, doesn't have to worry about covering up the way her sister does, and gets invited to lots of dressy events (in this case, it was the Boodles Boxing Ball). Her inner boobs made their debut in a poppy-colored Temperley dress from the label's fall 2011 season, which was a nice down-to-earth choice because Pippa probably could have had any dress she wanted from the label's spanking new spring collection, but instead picked one that any normal (wealthy) person could buy in a store.