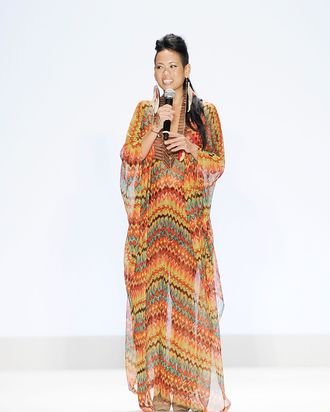 Anya Ayoung-Chee.
Photo: Fernanda Calfat/2011 Getty Images
Looks like we should've busted open our piggy banks and taken them to Vegas: Anya Ayoung-Chee, as we'd predicted, did indeed win this season of Project Runway — and while she might not be the most original designer in the world (or even of this bunch), neither did she send anything down the runway that made us cringe at the prospect of her victory. We freely admit, that's a pretty low bar to set for a successful finale, so please join us as we hash out this season's capper and look ahead to what we hope is salvation in the form of the all-star season. Our Team Mondo shirts are all pressed and ready to go.
Jessica: I can't believe we called it, and I can't believe Joshua was runner-up.
Heather: The whole time I was like, "Wait, if he wins, we don't have to eat anything other than our words, right? Because I can't eat my hat. It's been on the floor of my car." Honestly, for me, this episode was less about the winner and more about whether I am hallucinating, or the judges are hallucinating. Because the constant Joshua fluffing was surprising to me.
(For more from the Fug Girls, visit GoFugYourself.com.)