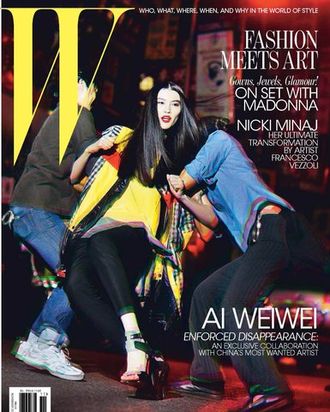 For the cover of W magazine's sixth annual art issue, photographer Max Vadukul shot Chinese model Sui He for a project conceived by Chinese artist Ai Weiwei.* Weiwei, who was detained by Chinese authorities earlier this year for alleged economic crimes and released in June under close surveillance, developed the idea for the shoot with W editor Diane Solway from China via Skype. Photographed in Flushing, Queens, the cover image harks back to Weiwei's photographic work from the eighties, when he captured the Tompkins Square riots. This also marks the first time in recent memory that a relatively unknown model (and an Asian face at that!) has landed the cover of W magazine.
Dissident Creates by Remote Control [NYT]
*This post has been corrected to show that Ai Weiwei did not art direct the shoot.