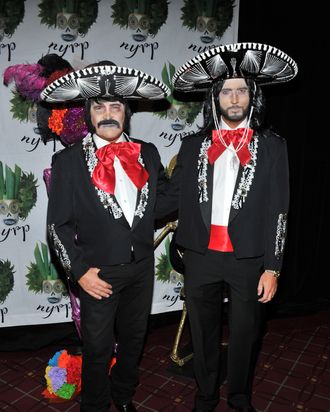 Michael Kors and his husband.
Photo: Stephen Lovekin/2011 Getty Images
Are you ready to get slutty for Halloween tonight? Or be extra daring and get … NOT slutty? Most celebrities are one step ahead of you, seeing as Halloween is so inconveniently on a Monday, leaving the best parties to happen on the preceding Friday night, Saturday night, and even Sunday night. And now the famous and fashionable get to do it all again tonight because they're celebrities, they have assistants to get them as many costumes as they desire, and hangovers don't interfere with Their Lives. After all, Halloween is a great excuse to wear things you wouldn't otherwise wear, though the best costumes are much more than just that. (Jessica Simpson's, for example, confirms her pregnancy.) For some last-minute costume inspiration — or motivation, if you're one of those Halloween haters — see what luminaries like Simpson, Nicole Richie, Snooki, Real Housewives, and more wore to costume parties over the weekend.