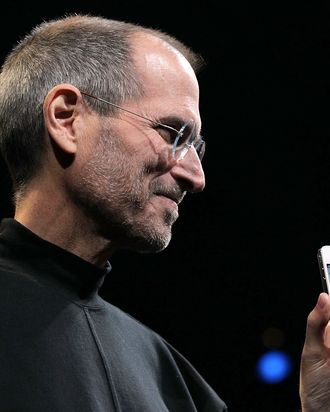 Steve Jobs.
Photo: Justin Sullivan/2010 Getty Images
St. Croix, the knitwear label that took credit for Steve Jobs's trademark black mock turtlenecks and announced their sudden surge in popularity the day after his death, reportedly wasn't the source of Jobs's shirts after all. According to Walter Isaacson's forthcoming biography of Jobs, the shirts were actually by Issey Miyake, with whom Jobs was friendly. The Smoking Gun reports that St. Croix has since admitted that they have no records of Jobs buying their clothing, and removed a statement that Jobs was "a fan" of their products from their website.

The firm subsequently edited its web site to remove the claim that Jobs was a "great innovator and fan of St. Croix" … Jobs's photo remains on the web site, however, with the promise that the firm will donate $20 to the "ongoing fight against cancer" for every black "Style 1990" garment sold by October 16.
The "Style 1990" shirts are currently sold out, but they're still taking orders and promise to ship by November 7.
After Cashing In, Clothing Firm Admits Steve Jobs Was No "Fan" Of Its Mock Turtleneck [TSG]