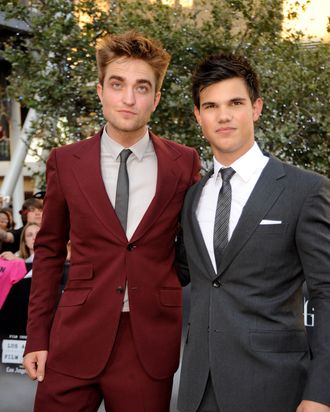 Robert Pattinson & Taylor Lautner. Robert is quite possibly crying inside a little.
Photo: Jeff Kravitz/2010 Jeff Kravitz
Spending all that time on the Twilight series' film sets with a frequently shirtless Taylor Lautner has given Robert Pattinson quite the insecurity complex. (Also most likely intimidating in the six-pack stakes: Kellan Lutz.) He lamented to Mexican magazine 15a20 that he's always worried about how he's shaping up in comparison. "After seeing how much Taylor works out for the movies, I thought, 'Well, everybody is really going to judge me now.' I always tried to think about positions where I could tense the muscles, and suck in my belly." So to prep for his vampy topless scenes in the forthcoming Breaking Dawn movie, he figured, "OK, it's the last one, I'm getting a six pack," worked out "hard" for six solid months — and no doubt cut his blood carbs intake down by half too.
Robert Pattinson: Taylor Lautner Makes Me Insecure About My Body [Us]