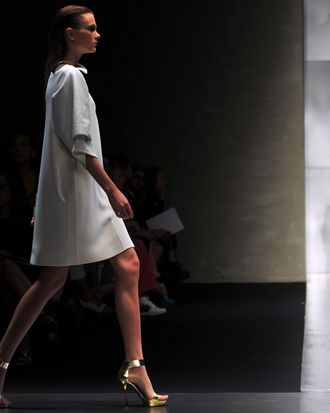 The spring 2012 Gianfranco Ferré show in Milan.
Photo: GIUSEPPE CACACE/2011 AFP
In a letter to some fashion-industry people, the CFDA says that even if Milan is trying to bully everyone into changing show dates so that the Italians aren't so squeezed, the New York show calendar remains firm. "While the Camera Nazionale della Moda in Milan has expressed displeasure with the late start for September, we do not feel that New York should shift earlier," the letter, obtained by WWD, stated. "Our colleagues at the British Fashion Council support this decision, as they cannot change their dates either."
The schedule in question was meant to be a permanent thing, New York organizers say, while Milan says it was only supposed to last for three years. The CFDA says New York Fashion Week always starts on the second Thursday of September, as a rule, and won't change just because it may fall too late for Milan's liking.