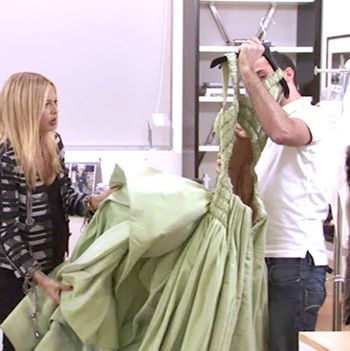 Hey tran! Anne Hathaway's Oscar dresses? I can't even talk about them. They make me stop breathing. They make me go into labor and I'm not even pregnant. Looking at the Tom Ford broken-glass dress just makes me conceive a baby. Even though when I look at it, I stop living. I can't even talk about it. It still makes me conceive a baby. It's not normal. Not me — the Givenchy dress. It is not normal. And the archival Valentino makes me feel like I'm in. A. Grave. Just call in the coffin already. I'm writing this post from the hearse. Get me my Chanel to wear for my baby delivery and my being dead. Because even though I'm dead I'm going to deliver a baby. My water is going to break all over the silver Oscar de la Renta dress. It makes me want to go into labor in my coffin inside my hearse and then be a huge hooker in my grave, with bananas. But we'll have to stop at the mental hospital on my way to my grave because the Lanvin tux is making me insane. I can't take it. Bury me under a bunch of bananas, all you trans out there. But please, learn a few things before I am buried.
Things We Learned About Fashion
• The language of Rachel Zoe Inc. will morph and change and become more exaggerated with the seasons. For if fashion must evolve, the speak used to describe it must as well. This episode we have Rachel greeting everyone as "tran," short for "trannie," which is already an abbreviation in itself. So we've entered a time of meta abbreviations.
Things We Learned About Life
• Rachel's best friend really does get to have a lot of fun. Joey goes to the studio not to do work but just to see what gowns had come in for Anne to wear for the Oscars. Jordan, the styling assistant who seems so sweet and competent, has to take time away from her work to show him, even though his looking at them is not part of his work.
• If you are extremely sweet and competent and don't cause any drama, you're not going to get much airtime on reality television. That being said, if you don't get much airtime, you will become intriguing by default, so Bravo, give us some more Jordan! We're not watching to see Joey wear his sunglasses inside. Rachel, yes. But not Joey.
• Don't talk about your ex-assistants in a negative way. Everyone on Team Zoe would be best off not talking about Brad, if they really are upset with him for misleading them when he decided to strike out on his own. This is only hyping him and his own forthcoming Bravo show! Which Team Zoe may not have known about at the time of filming, but in any case he's still not Rachel Zoe, so let him go.
• "Feud" is a loose term, in tabloid land. If two people don't speak or don't get along, that's a "feud." So even though Zoe says she and Brad are "not feuding," by gossip rag standards, they are.
• Pregnancy seems to have forced Rachel to try to manage her stress better. "I just need to disappear for two or three hours and wake up and remember what it is that I love about my life and be grateful," she announces when she gets home one day pre-Oscars. Does she secretly have a good therapist feeding her lines?
• If you're going to abbreviate someone's name, make it as feminine as possible. Last night, Jeremiah became "Miah," which may as well be "Maya."
• Rachel's sister Pamela says she is the closest to her in the world. Oh, SNAP, Rodger.
• Telling your wife she looks "so pretty," is probably always going to cheer her up. Rodger wins points post-Vegas for being wonderfully caring of his wife on last night's episode and paying her nice compliments like this. But again, this is post-Vegas, so he's now even on his husband points scale. And Rachel now knows he didn't buy her that gift himself in Vegas, but had the concierge do it, so he might even be in the negative.
• Straights really can "get" girly things, if you're with them long enough. Rodger proves this often, and did so yet again last night when Rachel is about to go out the door and asks, "Do I look like a hooker?" and Rodger, unfazed entirely, answers, "No, you look fine." Who hasn't asked her man at one point or another if she looks like a hooker?
• Rachel will never have the problem of looking like a hooker because, feel how you will about her aesthetic, she always covers herself up. Can she pay Jersey Shore a visit?
• We need to see more Jeremiah than we did in last night's episode, if only for his remarkably square and bulging pectorals. Bravo could even just show him sitting in a chair doing nothing for ten minutes each episode and that would make up for Joey and his non-ironic Kardashian-loving ways.