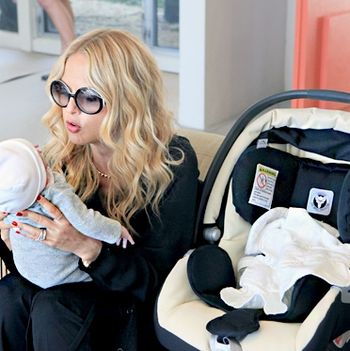 Rachel and Rodger didn't need to fire and re-hire Jeremiah for the purpose of creating fake staff tension when Rachel's pregnancy was more than adequately enthralling on its own on this season's The Rachel Zoe Project. And now that she has the baby, no one ever needs to fight on this show again: The way they are as parents and the way the baby is as a baby is so good. Watching Rachel dress Skyler and Rodger say "the clothes aren't manly enough," out of the manliness he feels obligated to exhibit underneath all his jewelry and unbuttoned henleys (maybe this is some impossible-to-erase trait in men that deserves a thorough exploration by evolutionary scientists), is reality television at its finest. Rachel holds nothing back as she ponders whether to dress her days-old baby in a Missoni cardigan or, like, an asymmetrical All Saints leather jacket. It's her baby, her show, and she'll do whatever she wants no matter how bad the recession is and how other people might thing she "shouldn't." Because one of the reasons we all so reliably tune into her show every week is that in her world, the worst problems are figuring out which Chanel duster cardigan to wear to give birth at the hospital. Lessons learned from last night's season finale follow.
Things We Learned About Life
• Maternity leave isn't necessary if you can just take your baby everywhere with you. Rachel, because she is the CEO of her company and was always worried about having to take time off after giving birth, just decides not to take a real, three-month maternity leave because hey, babies are portable! Rachel can just bring him everywhere with her, and no one will mind because he was a tabloid celebrity as a fetus. Besides, the car is big enough for the nanny, too.
• Parents love showing off their kids. Surely part of the reason Rachel wanted to bring Skyler to work with her was so everyone could fawn over him with her all day. Not that he doesn't deserve it, because he IS adorable, especially when he wears his tiny Gucci things.
• If your baby is super-famous, you can basically announce anything about him to everyone around you and no one will think twice about how cute and wonderful he is. "Just letting everybody know, he hasn't pooped, and he hasn't burped,so he could wake up crying soon," Rachel says when she arrives to the photo shoot for her clothing line's look book.
• There are creative ways to talk to your newborn about breast-feeding. "Our date is tonight," Rachel tells Skyler on the photo shoot. "You, me, my boobies, and some takeout." Thank God Rodger was out of earshot.
• There are perhaps not as creative ways to show off a push present to Brian Atwood. "So did you see what my amazing husband got me for pushing a baby out of my hee-hee?" Rachel says to him, as though blind people can't see the doughnut-hole-sized diamond on her finger. "You know what he said to me? 'I just watched what happened, and you actually really do deserve this now.'" Childbirth is a more laborious strategy for women to get their husbands to buy them diamonds than cooking them chicken, but it pays off for women who really want their husbands to buy them huge diamonds, at least in Bravo land.
• Having a baby gives parents an excuse to baby talk all the time. But you know, with Rachel and Rodger, this didn't make their day-to-day interactions seem that different since Rachel always got what she wanted with him by using her baby voice anyway.
• If you're stressed out, grab a baby! When the Bloomingdale's executives come by to look at the shop-in-shop Jeremiah made for Rachel, which she loves, Rachel grabs baby Skyler in case the news is bad (this is Bravo — as if it would be) because she can't be upset about anything when she's holding him, she says. Of course when Bloomingdale's sees the shop they also see a big pile of money, so they decide to give her eight shop-in-shops. Does this mean baby Skyler has a diamond coming his way?
• If you don't have a baby, life can still be beautiful enough to draw tears. Jeremiah, after he hears Bloomingdale's loves his pretty retail space, starts tearing up and has to turn away from the camera. Mandana the execubitch makes sure his wimpiness escapes no one. "Wait, Jeremiah — are you crying? You're crying!" Quick, everyone, look at the hot guy crying!
• Rachel proves so well, time and again, that the wife is the voice of reason in a marriage. While she graciously — yes, graciously, Rodger — makes her husband a peanut butter and jelly sandwich, she lists all the reasons Jeremiah deserves to be on staff at the company: "He loves the brand. He killed it with the store-in-store. And I like anyone who is excited, enthusiastic, and works their ass off. And also he looks so cute every day. And that says something. I mean, have you ever seen him in a bad outfit?" THIS IS WHAT WE'VE BEEN SAYING ALL SEASON.
• Rachel makes a really good baked salami sort of thing. "It's like the crack of salamis," she says as she's putting it together for the BBQ she and Rodger host at their house for the staff, admitting it looks completely disgusting while it's being made. It's very surprising that that is her specialty, but not once her staff starts talking about how good it is:
"I gag for Rachel's salami. It's so juicy it, like, melts in your mouth."
"I will push these bitches down if they come near my sausage."
"He's like the salami patrol."
• Be sure to have the nanny on hand when you want to make a toast about your baby. When Rodger and Rachel go on about how happy with and thankful they are for Skyler and grateful to their staff for making it happen, one of the enduring images is of the nanny bouncing him gently up and down as Rachel gives her toast.
• Rodger: "Everyone is like la la la la la and they're not taking it seriously. You have to take BBQ very seriously." Being from Texas, I know a thing or two about taking BBQ seriously, and if they really were taking it seriously at all, they'd have no plates or utensils or individual napkins, but a sheet of wax paper, a plastic tray, half a loaf of Wonder bread, some brown paper towels on a roll, some sauce in a plastic squeeze bottle, and maybe some Tang or other powder-based beverage or beer — not pink floral centerpieces, white candles, fedoras, and Veuve Clicquot. That said, I wouldn't mind going to a Rachel Zoe BBQ over the authentic kind any day.