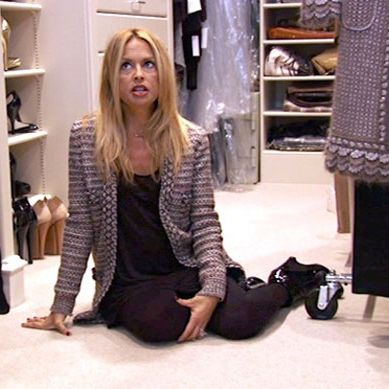 Baby, baby, baby, baby. Rachel Zoe had, actually had, a baby, baby boy, baby in the hospital! Let's be honest, that's really all anyone was concerned about this episode. Skyler Morrison Berman is here! Also, not that you care, Joey got his first styling job (if only by default) working with regular client Molly Sims, and poor pouty Jeremiah continued to be Rachel Zoe Inc.'s well-dressed hipster doormat — fired, but still at the company's beck and nursery decorating-related call. (Though you know, he does a good job room-staging — perhaps Bravo should keep him in their "talent" stable, but just shunt him over to Million Dollar Listing or something.) And Rodger bought some crazy expensive jewelry to give to Rachel as a thank-you present for giving birth to his kid, which — in case you didn't know — happened.
As for the birth itself: Rodger caught Rachel's grumpy post-water-breaking self primping in the bathroom briefly on a cute and blurry home video, but that was it; his suggestion to hire a videographer for the birth in its entirety was apparently overridden. More cutesy home video showed baby Skyler back at home with his adoring parents whispering sweet nothings to him and to each other. New daddy Rodger got all teary in a closing confessional, and Rachel didn't – but probably only because she was wearing thick eyeliner. She did say she's never loved anything in her life before like she loves Skyler, aw!
Next week: Skyler. It's all about Skyler, and maybe Jeremiah a little bit.