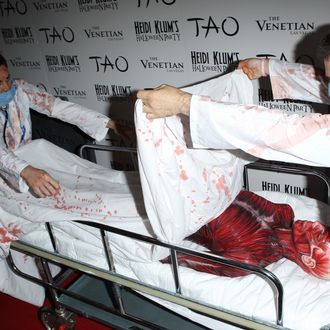 Photo: Michael Tran/2011 Michael Tran
Heidi Klum resides in that rarefied model stratosphere occupied by Tyra Banks and precious few other supermodels: Girlfriends best not mess with them. Each has a time when they shine the most, and for Klum, for years now, that time has been Halloween. Each year Klum has managed to top her always-extravagant Halloween parties and even more complicated Halloween costumes. This year, she's hosting two parties — one in Vegas, which happened over the weekend, and one in New York, which happens tonight — and wearing two costumes. One is some inside-out woman thing, and the other is a monkey. She wore the former with quite a bit of drama in Vegas over the weekend, where her red carpet theatrics rivaled Gaga's Grammys "vessel" situation, but were ultimately perhaps better since she got out of her vessel and let the world see what she was wearing before she went into the party.
And yet! This Halloween, Klum's parties face competition from the evidently terribly daring Anja Rubik, who is hosting a "gypsy-themed" party with Kanye West in New York tonight, and Victoria's Secret's latest diamond-bra model Miranda Kerr, who will dress as a circus ringmaster for her event this evening. If Kerr's party really does create, as the Post proclaimed, "the biggest supermodel head-to-head since Zoolander," check out Klum's arrival to her first party over the weekend and contemplate whether or not she's already won. Unless Kerr has plans to arrive to her thing on a baby elephant while holding a puppy, she might not stand a chance.