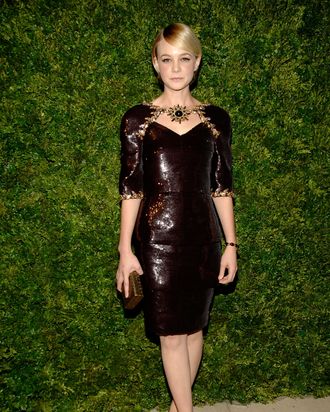 Carey Mulligan at the CFDA/Vogue Fashion Fund Awards.
Photo: Ben Gabbe/2010 Getty Images
Say whatever you want about the collective back-scratching between Vogue, the CFDA, and its sponsors, but they're nothing if not loyal to one another. Tiffany & Co., who partnered with the Vogue/CFDA fashion fund earlier this year, just announced that they're supplying all the jewelry for the set of the forthcoming remake of The Great Gatsby. Surely not by coincidence, the film's director, Baz Luhrmann, will serve as a creative consultant for next year's Costume Institute exhibit and also help with production design for the Met Gala, which the film's main star, Carey Mulligan, is co-chairing with Anna Wintour and Miuccia Prada. So, when will Carey Mulligan's next Vogue cover come out?
Related: Confirmed: Next Year's Met Costume Institute Exhibit Will Be 'Elsa Schiaparelli and Miuccia Prada: On Fashion'
Tiffany & Co. Partners With 'The Great Gatsby' [WWD]