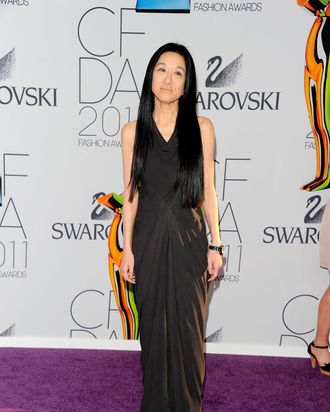 Vera Wang.
Photo: Andrew H. Walker/2011 Getty Images
When Vera Wang's offices were contacted about General Hospital actress Nancy Lee Grahn's angry tweets alleging that the designer refused to sell their wardrobe department a dress for a wedding scene, they were just as puzzled about it as the rest of us. Reports Styleite:



A source at Vera Wang said over the phone Wednesday afternoon that Grahn's accusations were surprising and unusual. The source says the Vera Wang press office would "love the exposure" of being on a show as big as General Hospital … denying a TV request doesn't happen frequently — and when it does it's a special circumstance.

"It's sort of like a non-compete. Sometimes, I've had several shows ask me at once, and then I've had to decline a new request," when a sample dress couldn't be in two places at one, the source said.
EXCLUSIVE: Vera Wang Responds To Soap Actress's Angry Tweets [Styleite]