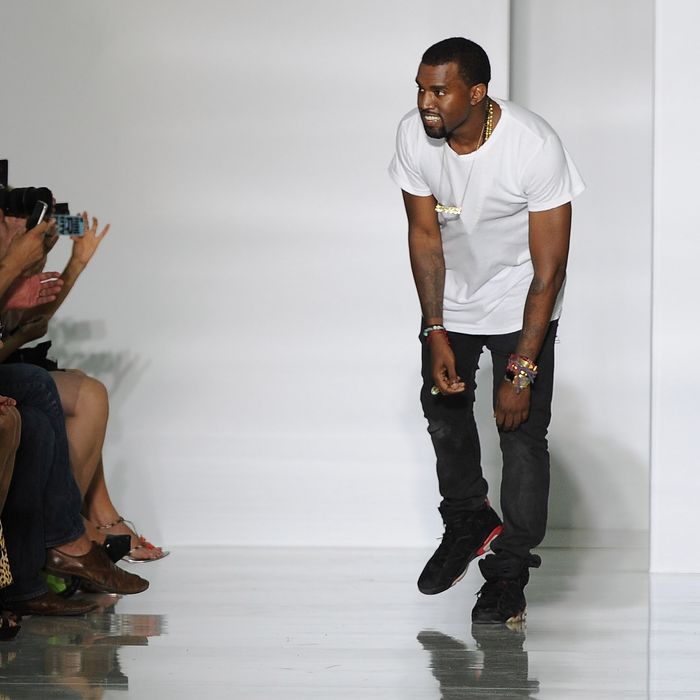 Kanye.
Photo: Pascal Le Segretain/2011 Getty Images
Somehow Kanye West's fashion show came to be the most hyped of the entire spring 2012 season, creating expectations that are often impossible to live up to, even for trained, established designers. The reviews of the show ranged from the kind ("baby Balmain," according to Style.com), to the optimistic ("one good-looking pair of color-blocked pants in blue and coral", according to the Times), to the merciless ("The only thing more painful than witnessing the dress was watching the model pitch down the runway in shoes so ill-fitting that her spike heels were bending at angles," writes The Wall Street Journal). Yes, there was a lot of wrong. But there was also some right, which we are biased in pointing out because Kanye West gave us a hug in exchange for not giving us an interview once, which is more than you get from most famous people who don't feel like giving you a sound bite.
What Kanye Got Right
• The critics. Every major one, from the Times, Style.com, the Telegraph, etc., were present to witness West's fashion line's debut. As much as they hated on the clothes he showed, they evidently took the show seriously enough to show up at all. After all, they could write equally unkind things about the Kardashians' Bebe collection, which showed in New York once, or Avril Lavigne's Abbey Dawn line, which showed in New York this season, but they don't waste their energy.
• The designers. Also populating West's front row was Azzedine Alaïa, DSquared2's Dean and Dan Caten, Olivier Theyskens, Jeremy Scott, and the Olsen twins. Sure, maybe they all went just to feel a little bit better about their own work as designers, but even so, Alaïa doesn't go to a fashion show for just anybody.
• That one pair of color-blocked pants. See intro paragraph above.
• The staging was "impeccable," according to Style.com. Which it ought to be, since Kanye's main job as a performer is to stage things well.
See slideshow of the complete DW by Kanye West Spring 2012 Collection