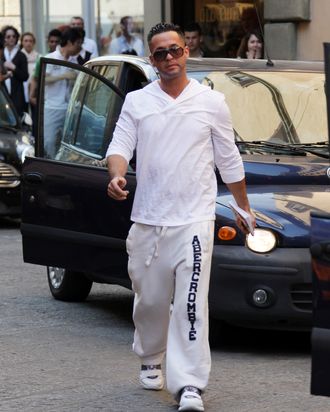 Not European.
Photo: Ludwig / Splash News/? www.splashnews.com
Abercrombie and Fitch talked a big game leading into their European expansion this year, opening a fleet of new stores and even unleashing a parade of buff, shirtless men on the Champs-Élysées to promote their Paris flagship opening. The retailer then raised prices at the end of the summer, presumably not anticipating the European debt crisis. (Or maybe they did, and figured Europeans would be clamoring for some nice branded hoodies to cower in.) Regardless, Abercrombie's shares fell 20 percent yesterday, which analysts attribute to trouble overseas; meanwhile, the Post says that comparable sales at their European stores are dropping. Reports the paper:
"Abercrombie registered results that put their entire international growth story in question," Eric Beder, an analyst at Brean Murray Carret & Co., said yesterday.
Surprisingly (and unfortunately), Mike "The Situation" Sorrentino hasn't tweeted about this yet.
Trouble Under the Hood [NYP]