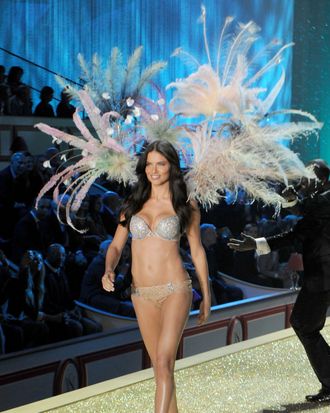 Adriama Lima in last year's Victoria's Secret Fashion Show.
Photo: Nicholas Hunt/PatrickMcMullan.com
You probably already knew this, but you really shouldn't feel bad about yourself when you watch the Victoria's Secret Fashion Show, which tapes in New York on Wednesday and airs on network television at the end of the month (after Thanksgiving, kindly). Adriana Lima, veteran "angel," who wore the diamond bra in last year's show and will walk again this year, has spoken quite frankly about the work she puts into her diet and fitness regime to attain the Victoria's Secret Fashion Show physique that allegedly defines what the world perceives as the hottest–sexiest–most beautiful female form. Last year before the show, she told us that six weeks beforehand, she adopts a very strict diet consisting of almost no carbs or fat, and works out for two hours a day. This year, she makes that regime sound a bit more intense in the Telegraph.
Lima's daily Victoria's Secret workouts began in August, and she increased those sessions with her personal trainer to twice a day three weeks ago. (The "really intense" exercises consist of jumping rope, boxing, and lifting weights, she says.) And the diet?
She sees a nutritionist, who has measured her body's muscle mass, fat ratio and levels of water retention. He prescribes protein shakes, vitamins and supplements to keep Lima's energy levels up during this training period. Lima drinks a gallon of water a day. For nine days before the show, she will drink only protein shakes — "no solids". The concoctions include powdered egg. Two days before the show, she will abstain from the daily gallon of water, and "just drink normally". Then, 12 hours before the show, she will stop drinking entirely.

"No liquids at all so you dry out, sometimes you can lose up to eight pounds just from that," she says.
If that sounds difficult, to say the least, the stylist for the show prefers to qualify the routine in terms of athletic pursuits, as casting and model agents often do.
"It's like they're training for a marathon," says Sophia Neophitou, the British fashion editor who is chief stylist for this year's show.

"Adriana works really hard at it. It's the same as if you were a long-distance runner. They are athletes in this environment — it's harder to be a Victoria's Secret model because no one can just chuck an outfit on you, and hide your lumps and bumps."
So it's not the same as long-distance running in the least, though the regime may be as intense as what professional athletes go through. Yet unlike many female athletes, the resulting figure, without all those "lumps and bumps," becomes the ultimate standard of beauty. The Victoria's Secret model's athletic pursuit, unlike a professional athlete, is only the appearance.
So don't worry about why you don't look like them, or how you can. You probably didn't beat yourself up for not winning the New York City Marathon yesterday, after all.