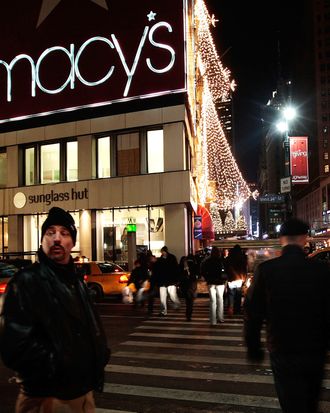 Photo: Chris Hondros/2009 Getty Images
Once everyone is done talking about all the models who went out in costumes for Halloween last night at fiercely competitive, meatpacking district parties (jealz!), we can focus on what really brings meaning to the cold season: shopping. Rest assured that Black Friday will be no less scary this year than in recent ones, as stores try to entice Americans to go straight from their Thanksgiving pies to their local mall or shopping center. Target has announced plans to open at midnight on Black Friday, at which time its sales and promotions will be in effect, and remain open for 23 hours. Macy's will also be open for an intense number of hours, with plans to open more than 800 stores at midnight and keep them open until 11 p.m.



Martine Reardon, Macy's executive vice president of marketing, said the midnight openings are a response to customers' requests.

"People want to shop through the night," Reardon said.
Macy's To Open At Midnight On Black Friday For First Time [HuffPo]