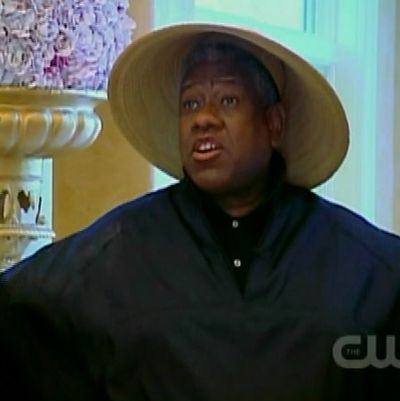 Back at the models' rent-a-mansion after last week's elimination, André Leon Talley arrives for a visit wearing another rice paddy hat. (Or maybe it's the same one, but if anyone's going to own two of the hats, other than of course actual rice paddy farmers in Asia, it would be ALT.) He brings the girls lunch, courtesy of a pair of sassy waiters who "accidentally" drop all the plates they're carrying and then have a fake fight. This is because the models are going to Greece (you know, because destroying tableware is a thing over there), this cycle's international destination. Woo! Really though, a Greece/Grease musical medley would have been a preferable reveal, particularly now that we know the models can sing.
It turns out the models are headed to Crete, specifically, but they stop for a terrible press conference at an airport along the way. Only Laura butchers the pronunciation of Greek words in her speech to the Greek "'press" and dignitaries; she also makes the HUGE MISTAKE of describing herself as a Roman goddess and not a Greek one. Angelea also makes a faux pas by asking where the bathroom is – even though she'd used the Greek word for toilet.
Back at their villa, the girls get a chance to briefly consult with "famous designer" Michael Cinco on the dresses they'll get to wear in the finale runway show — should they be one of the lucky last two girls standing. (Interestingly at this point, both Angelea and Allison's confessionals show them in hair-covering headwraps. These are usually used in Top Model to disguise makeovers – and with last cycle's final two getting a second set of makeovers at their final judging, could this be a spoiler showing the final two all-stars?) Summing up the caliber of the girls' collective ideas is Dominique, who wants her dress to include something sparkly dangling from the crotch.
Of all things Grecian to be inspired by, this week's photo shoot is based upon the Greek salad. Seriously. And it's based in a Greek salad, as the girls are posing in a giant bowl of actual ingredients – tomatoes, greens, and large chunks of feta cheese. It's disgusting – and that's before some of the girls take to pouring carafes of olive oil over themselves, too. Shannon opts out of the shoot, which would be admirable had her refusal stemmed from the shoot's innate vulgarity, but is actually less so because it's just her silly "no underwear" rule. (Even though the lingerie the models are wearing does look like swimwear, and is much more tasteful than the leotard she wore contentedly for the stilts shoot a few weeks back.)
Dominique, whose photo André Leon Talley deemed worthy of a Greek tourism campaign, is called first during judging. (Sadly, other than this comment it was another very quiet panel for ALT, though he's clearly appalled when Nigel refers to a photo as Sports Illustrated–worthy.) Unsurprisingly, Shannon's lack of an image sends her home, despite a smidgen of suspense when Tyra implies that her resolve — which is in sync with her "trustworthy" brand —  trumps Laura's "erotic" (Nigel's word) and thus out-of-character shot. But since thousands of girls apparently send her letters calling her their role model, an early flight back from Greece will surely give Shannon the time to write some replies.