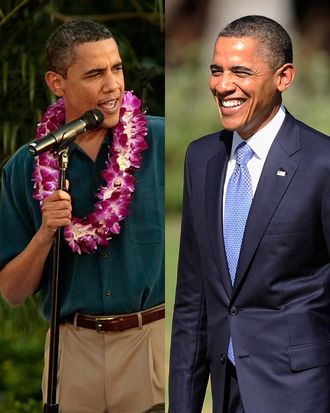 Barack displaying a sense of fun in 2009 while hosting a l'uau at the White House; at the APEC summit last weekend.
Photo: Chip Somodevilla/Getty Images, Kevork Djansezian/Getty Images
If you're from Texas, you don't run home for the holidays and slap on your cowboy hats and cowboy boots (no one actually owns those). So it would make sense that, if you're from Hawaii, you wouldn't run home and throw on your Hawaiian shirt. Perhaps that's why President Obama did not wear a Hawaiian shirt to the Asia–Pacific Economic Cooperation forum in Honolulu over the weekend. World leaders have mostly favored the host city's native dress for this event's group photo since Bill Clinton started the tradition in Seattle almost twenty years ago, when he gave his visitors snazzy bomber jackets. But this year, Obama and the world's other presidents and prime ministers in attendance wore suits instead of floral- and fruit-printed tops, as though they were determined not to have any fun with this thing at all. According to the AP, the look was severe, to say the least:
There wasn't even a single floral lei.
Walking to the photo op, Chilean president Pinera Echenique asked the POTUS, "Where are the Hawaiian shirts?" To which Obama replied, "We are ending that tradition." How dare he!
"I got rid of the Hawaiian shirts because I looked at pictures of some of the previous APEC meetings and some of the garb that appeared previously and I thought this might be a tradition that we might want to break," Obama said late Sunday. "I suggested to leaders, we gave them a shirt and I promise you if they wanted to wear it that would have been fine but I didn't hear a lot of complaints about breaking precedent."
Perhaps he eschewed the Hawaiian shirt because he thought his predecessors looked dorky in their contrived APEC outfits. Perhaps he just didn't want to be seen in his home state's most stereotypical item of clothing. It's also possible that he hasn't caught up on his spring 2012 trends, and therefore doesn't know that Hawaiian shirts are kind of a big deal. And the chance still remains that maybe he's just anti-fun.