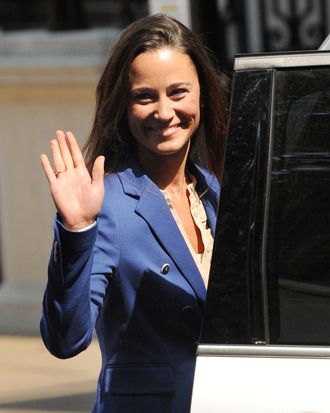 Pippa "super-fascinating" Middleton.
Photo: Ben Stansall/AFP/Getty Images/\
Pippa Middleton made it onto Barbara Walters's list of 2011's Most Fascinating People. In preparation for the annual special, which airs on December 14, ABC released seven of Barbara's top ten, and Pippa's mixed in with MUCH less interesting folks, like Katy Perry, Derek Jeter, and the 'kollective' Kardashians. So get prepared to overanalyze Pippa's response to the inevitable line of Prince Harry–themed questions, and expect some proper British bashfulness when the subject of her butt comes up.
The last three fascinating names in this year's top ten are still to be revealed, including of course the heralded number one. Is it too much to hope that Barbara's really suffering from Middleton Mania, and bagged a chat with Pippa's older sister, too? (Perhaps she used some guerrilla reporting tactics, cornering Kate in Topshop for a few quick questions.)