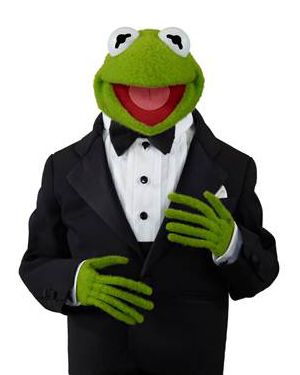 Kermit.
Photo: Courtesy of Brooks Brothers
Kermit the Frog may not age, but his clothes sure do. Having not bought (or, let's be honest, been gifted) a new suit since 1979, he now has a custom wardrobe from Brooks Brothers, who dressed him for the forthcoming Muppets movie. To his delight, Kermit got to keep the clothes.  "I was very excited about my new wardrobe," Kermit explains in a press release Brooks Brothers sent around to brag about the tremendous honor they had in dressing him. "I don't often wear clothes but when I do I want something classic and expertly tailored." The movie legend also dispenses style tips on Brooks Brothers website.
What style advice would you give the kids?

Wear what makes you smile and feel comfortable. I have skinny legs, skinny arms, and I'm green. So I know that it's not easy picking the right fashion.
Despite international fame and astronomical acclaim, Kermit remains humble: "Growing up as a tadpole in a swamp with 3,265 brothers and sisters, you can imagine that I had a lot of hand-me-downs. I love the fact that these items were made exclusively for me." One can only imagine what sort of clothes Miss Piggy made off with.