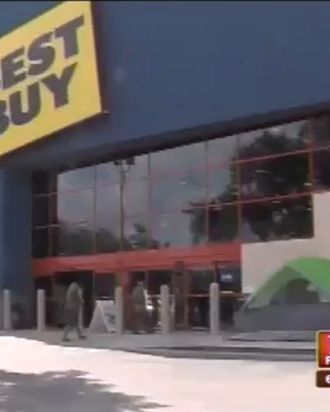 Shoppers already camping outside of Best Buy in Florida, where it's not cold.
This Friday, the day after Thanksgiving, when your bellies will be full with wine and meat and more wine and maybe a martini, deprived cash registers will also be poised to get full. Black Friday might earn retailers $20.3 billion — the first $20 billion retail day in our nation's history — Michael McNamara, vice-president and global solutions leader of MasterCard Advisors, told WWD. Analysts project sales increases from last year's Black Friday of 2 to 6 percent; polls indicate 17 percent of consumers will shop on this terrifying day, up from 12 percent last year. This year's Black Friday is unique in that perhaps more stores than ever are opening in the wee hours of Friday morning or even the night or day of Thanksgiving, which has led to some pretty repulsive-sounding terminology.
David Bassuk, managing director and head of AlixPartners global retail practice, suggested that regardless of all the new maneuvers, the impact of Black Friday is waning. While AlixPartners expects the holiday season to yield "modest growth" of 4 to 5 percent, "the 'big day' isn't the 'big day' anymore; it's been diluted with earlier and earlier hours and even Brown Thursdays," Bassuk said.
While Macy's, Gap, Ann Taylor, and Walmart stores will open at midnight after Thanksgiving or earlier, not everyone is convinced this strategy is actually financially — or morally — worthwhile.
Sears, which opened on Thanksgiving Day last year, said it has the benefit of hindsight in deciding to stay closed this Thanksgiving. "We saw OK traffic that day," admitted Tom Aiello, division vice president. "There was a sentiment from customers to keep Thanksgiving as a holiday."
Besides, you're pretty much guaranteed to find deals leading up to Christmas, after Black Friday and Brown Thursday and what — Gray Wednesday? Where is Nicki Minaj to name a day of the week when you need her?