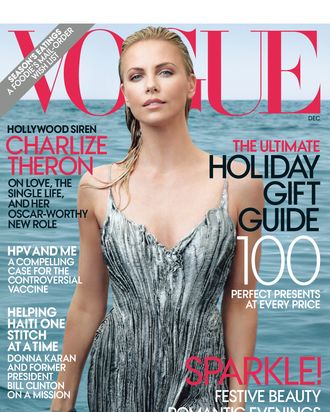 Charlize Theron, shot by Annie Leibovitz for 'Vogue'.
Charlize Theron covers the December issue of Vogue, posing on a rocky, rather cold-looking beach for Annie Leibovitz. In the accompanying article, she swears a lot (although her purported 'F-bombs' are rarely quoted) and talks about stuffing her bra, both in real life as well as in her forthcoming film Young Adult, directed by Jason Reitman.
She added hair extensions and stuffed silicone cutlets into Mavis's bra — the latter a detail she lifted from a romantic episode in her own life. "I was on this date and started making out, and it was moving a little further, so I realized I had to get the cutlets out," Theron recalls. "But my bag was small, and I couldn't fit them in the thing. Jason [Reitman] was like, 'No way. That doesn't happen!' But that stuff happens to girls all the time."

Whatever happened to the cutlets?

Theron pauses. "I may have hid them in his trash with lots of toilet paper."
In other news, she's single now!