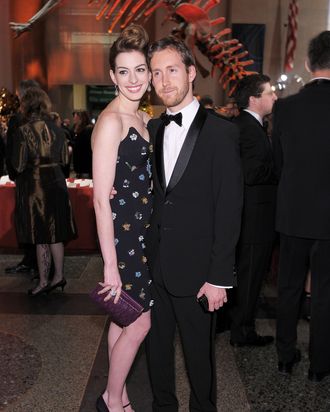 Anne Hathaway and Adam Shulman.
Photo: Michael Loccisano/Getty Images
Anne Hathaway, who has played princess and queen roles in movies and is therefore practically royalty, got engaged on Sunday. Better yet, her fiancé is jewelry designer Adam Shulman, so we can look forward to a sparkly wedding full of diamonds and other lavish baubles.  Kwiat Jewelry has confirmed that Shulman collaborated with them on Anne's impressively large engagement ring, which the couple took out for a walk in Brooklyn yesterday. As for the dress: Based on Anne's red-carpet track record, we're guessing she'll go with something strapless, but who knows, really? She could always just wear a tux. Blind conjecture and/or wishful speculation welcome in the comments.