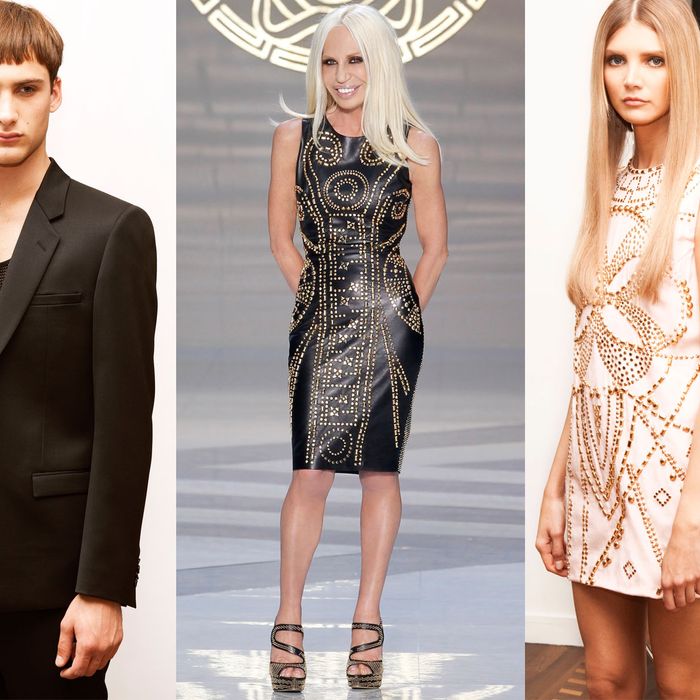 Donatella and models all wearing pieces from the H&M line.
Photo: http://www.hmpressrelease.com/?path=%2F%3Fp%3D2700
Today is Donatella Versace day! Why? Because she's in New York and she's putting on a big fashion show of her H&M line tonight at Pier 57 (because it can be seen from Jersey?), which will be known as "Versace for H&M Hall on the Hudson" for this eve only,  reports WWD. Tomorrow, of course, will be Victoria's Secret day, because they're putting on their big mass market–targeted fashion show at the armory on Lexington. But tonight, Versace and H&M get a chunk of the attention this world reserves for beautiful people and their sexiness, even though the show won't reach network television. To that end, WWD has decided that everyone is feeling sexy these days, and it may as well be thanks to Versace. The paper reports:
It seems whatever force of nature sways the collective taste has put it in the mood for Versace's brand of conspicuously sexy glamour, and not just because anything Lady Gaga, who Versace shrewdly offered to outfit in archival looks for two recent videos, touches turns into zeitgeist. Although, that helped. "The reaction to her was amazing," said Versace. "Everybody was writing on our Web site to ask where they can find this and that." The runways, too, have been flooded with Versace tributes — this past season at Lanvin and Dolce & Gabbana, and last fall in the panther and pin-up prints at Givenchy. "Riccardo Tisci is a friend of mine," said Versace. "He told me he had every Versace campaign as a poster as a child."
As complimentary as it is to have one's creative peers bask in your glow, it's even better to lure a new audience all together. "I'm always looking at young people," said Versace. "Girls today love to dress up. They love the Medusa. You see it even if they just buy a belt or sunglasses. They want to look cool and sexy. They don't want to look ordinary." Kristen Stewart, Carey Mulligan and Elizabeth Olsen come to mind when asked to name a few youthful persons of interest.
Nicki Minaj and Prince are performing at the show tonight, which is set to music mixed by Victor Calderone and includes some audio of Donatella's voice. The collection hits sales floors on November 19, at which time everyone who buys it can feel sexy together.