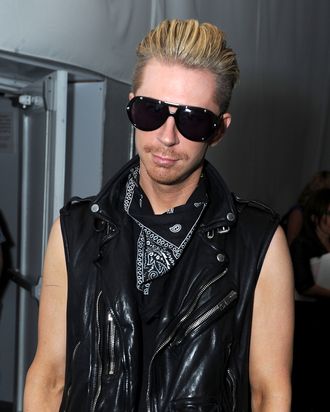 Kyle Anderson.
Photo: Katy Winn/Getty Images
Now's a tricky time to talk about money, which makes it all the more interesting when someone is willing to do so in detail and in a public forum like this here Internet. Daily Front Row's latest spending diary chronicles all the money Elle accessories editor Kyle Anderson spent over the weekend. Like every New Yorker, there are the trivial indulgences, like the $3.35 morning Starbucks order: "My usual order at Starbucks is a tall iced coffee with one Splenda and skim milk. Every intern in the history of Elle for the past six years knows this … But in the autumn, I like an iced chai latte."
There are the $250 beauty treatments from Dr. Perricone: "I used to go tanning back in the high school days, 365 days a year. I was black slash glow-in-the-dark for most of the nineties." And the requisite splurge, Anderson's being a $12,956.13 watch from Hublot, which sounds like it was a gift for someone special: "It's a watch with all of the words of the Declaration of Independence inside it. It's perfect since my boyfriend just got his green card." And before dinner at the Standard, there's the personal booze shopping, which was a $630 champagne-and-flute set from Astor Wines. Also, the taxis, more coffee, magazines, Sunday night desserts. What New York expense did he miss? Yoga class? A flea market find? Drinks for other people purchased in a state of selfless drunkenness? Seems like he covered most of his bases, even without those things. Guess they were right about people buying those luxury goods again.