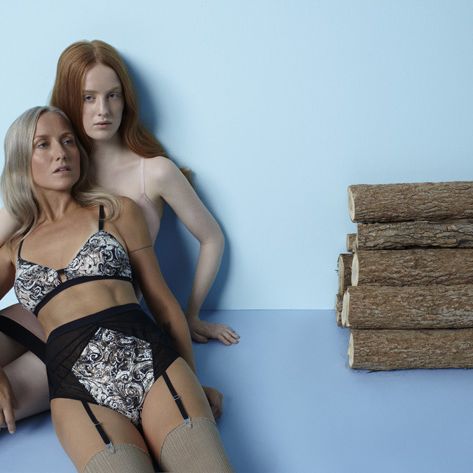 Mother-daughter lingerie models, plus "phallic" logs.
New ads for the lingerie label the Lake & Stars came out about a week ago, but Fox News recently stumbled across them and realized they'd hit a gold mine for their commentators' overanalysis. The campaign feature a gray-haired woman and her 19-year-old daughter sitting on the floor together in their underwear; according to psychologist Dr. Nancy Irwin, the images are "highly suggestive":
They are clearly designed to titillate consumers; mostly men. The incestuous and lesbian suggestions, with the phallic images of cactus and logs, are juvenile at best … I'm disgusted, yet hardly surprised by this. Advertisers (particularly of undergarments) continuously push the envelope on good taste to simply get attention and drive sales.
Meanwhile, Lake & Stars owner Maayan Zilberman says the mother-daughter pair are actually friends of hers, and believes that Fox is overreacting.
We're surprised that people are reacting with such violently negative connotations such as incest, given that we were only making light of a healthy and beautiful relationship between two women … something we think people in our culture are often uncomfortable with … We've always embraced women of all ages and sizes in our shoots, and having admired the loving relationship between our friends Johanna and India (the mom and daughter), it seemed a natural thing to feature them in a campaign representing our brand.
After all, is it really so beyond weird for mothers and daughters to be together in their underwear? And if we're going to be literal, don't a lot of mother-daughter traditions actually involve sharing a changing room? (Trying on prom or wedding dresses, for example.) But on the other hand, those logs! Disgusting.