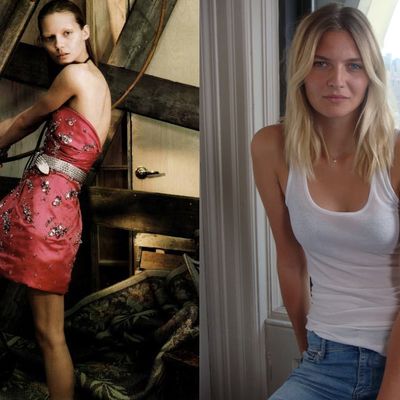 Wolter in 2009 (L), Wolter as of November 2011 (R).
"The skinnier you have to be, the more you eat," says 20-year-old German model Karolin Wolter. She recently became a plus-size model, after struggling to keep her weight down for three years as a skinny one. "I used to have eating attacks where I easily ate 3,000 to 4,000 calories per day to compensate." (Wolter experienced severe depression that often rendered her incapable of eating, and vise versa). Having whittled her frame down to 120 pounds from 143, the 5'$2 11" model explains that on top of her daily three meals, she would often visit her nearby Duane Reade to binge on candies and chocolate. "You cannot imagine how terrible I felt; I was so ashamed of my body not being thin enough. And I knew that was not normal," she says.
Thanks to modeling veterans like Kate Dillon and Amy Lemons, and more recently, Crystal Renn, Robyn Lawley, and Alyona Osmanova, who have all transitioned from straight to plus-size, women like Wolter and fellow recent plus-size converts Elora Perez and Sabina Karlsson, are finding it easier to make the switch too. Once these women feel healthier, they not only look that way, but act that way. Better equipped to charm casting directors and fashion editors with their natural bodies,  they are likely to book a greater volume of work while tapping into the very lucrative commercial market they may have previously avoided as straight-size high fashion models. Each success story reminds other struggling skinny models that life on the other side is an increasingly viable career option.
"There has never been a better time than now [to switch to plus-size modeling]," says Renn, arguably the most famous plus-size face working today. "The plus-size industry now has editorial clients, art projects, girls are doing TV appearances, and they have the potential to earn incredible amounts of money." Renn, 25, who has starred in ad campaigns for Chanel, Jimmy Choo, Dsquared2, and Jean Paul Gaultier over the past two years, is a rarity. But demand for fuller figures is increasing. Casting director Andrew Weir, whose clients include Viktor & Rolf, Hugo Boss, and Thakoon, remembers a time when "you knew there was a plus-size board, but you had no interaction with them. But now, we work with them, absolutely." One of his well-known high-fashion clients that typically only books straight-size models has been looking for a plus-size face for an upcoming project, he adds.
Ameerah Omar, director of Wilhelmina modeling agency's plus-size division, currently has five models who started as straight-size girls (straight-size models must have 34" hips, and be a size 0 to 2, while plus-size models generally fall between a size 10 to 16). She argues that plus- and straight-size models have equal shots at success. "The potential is pretty much the same," Omar says. "I have girls who are booking the same type of jobs as the models in the editorial division, from mainstream clients to online catalogues." While high-fashion editorials might only pay a couple hundred a day, models can make $10,000 for a catalog job. "The size is the only difference," Omar continues. "There is not a cap [on how much a plus-size model can make]. A model is a model, if she's great, she's going to be paid for her craft. It's different with each girl but the potential is there."

American model Dillon was one of the first top models to switch from the straight- to plus-size board. She recalls going into the fall 1993 show season — when she modeled for Fendi, Salvatore Ferragamo, Alberta Ferretti, and Emporio Armani in one week — with an intestinal virus that led to vomiting and dehydration. As Dillon was walking into a show, she remembers "a top fashion editor pulling me aside to mention how fabulous I looked; basically because I had lost so much weight and I remember thinking this is what it takes to look fabulous in fashion… I have to be literally voiding my body for ten days." After that Dillon, now 37, decided to quit modeling and moved to California. She gained 15 pounds immediately.

Two years later, a friend urged Dillon to return to modeling —  but as a plus-size model. Upon making the move, she says the response from clients and industry peers was "extremely positive." She continues:  "Cameron Diaz and Tyra Banks, who I modeled with as a youngster, thought it was genius." Dillon later became the first plus-size model to be featured in American Vogue, and cites ex-French Vogue editor Carine Roitfeld as one of her earliest supporters as a plus-size face. "There is a feeling when you go to work [in plus-size] that you're really doing it for women; proving being a full-figured women is really beautiful," she says. "But you never have that feeling as skinny model."

Virginia-born Lemons was also a bit of a sensation as a skinny model, after her Steven Meisel-lensed Italian Vogue cover shoot for the August 1997 issue came out. But she was in eighth grade at the time of that shoot, and when she hit 19, potential clients found her body's naturally developing curves unacceptable. "I found myself becoming an extreme athlete. I had a schedule leading up to the shows —  working out three times a day and eating basically nothing, drinking water and maybe eating a piece of chicken," says Lemons, who traded the unhealthy lifestyle for a spot on Ford's plus-size board. Ultimately, she became a better model. "[Before], I didn't really have much of a life, because my life revolved around prepping for the shows. I was always worrying about not fitting into the clothes; that was the worst thing, ever, when that was your only job to fit into them," she says. "A darkness was lifted off of me."

The transition isn't easy for everyone. Robyn Lawley, 22, who appeared on Italian Vogue's June 2011 issue, was "horrified by the idea [of moving to plus-size.]" She started working at sixteen, before her body was fully developed, and rebuffed suggestions that she move to plus-size until she was 19, and she heard it straight from a casting director. A year later, Lawley signed with Wilhelmina as a plus-size face, and went on to land covers she probably wouldn't have booked as a straight-size model struggling to keep her weight down. Now, she calls herself "much more relaxed because I'm not stressing about food anymore. I'm not trying to fit into this mold."

All the women we spoke with singlehandly agree that making the jump to plus-size has allowed them the freedom to be themselves. "It was a pathway to health for me. It offered me an opportunity to get healthy, to find my natural body, and to be myself," says Renn who's battled anorexia.
Wolter recently wrapped a shoot in England for a Swiss magazine — one of her first editorials as a plus-size model. Having put to work, she says she is happy with her new body. "I feel like this is the way my body is supposed to be," she says. "If anything, it's more the way I look at my body that's changed."
Yet, the obvious truth is that the fashion industry is mostly an industry in skinny, skinny figures. Whether or not many more models go plus-size in the coming seasons may be less a reflection of their views of their own figures than the rest of the industry's.