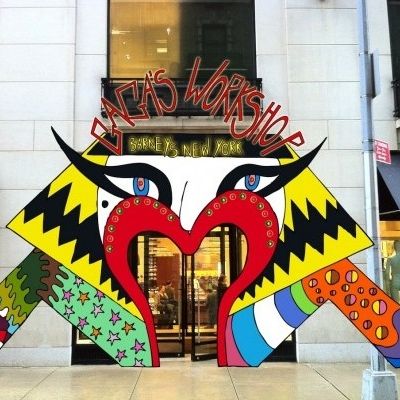 Admit it, you want your picture taken in Gaga's mouth. Get one of those foam fingers people take to sports games and you could really get creative with it.
Photo: Courtesy of Barneys New York
Eff you, Black Friday! And eff you, too, Brown Thursday! Tomorrow is Rainbow Tuesday! That's the name that the opening of Gaga's Workshop at Barneys, occurring at 11:59 this evening, should rightly if arbitrarily lend to the day. Gaga is supposed to be there to officiate things, so hopefully she can be on time since the marketing so delicately hinges on the 11:59 time stamp. Apparently in addition to a "click-to-hatch version of Lady Gaga in her famous Hussein Chalayan egg from the Grammy Awards," the Gaga-themed shop-in-shop, curated by her stylist Nicola Formichetti along with Barneys creative director Dennis Freedman, contains food.
Style.com reports:
There are shoe cookies by the New York bakery Eleni's, shaped like McQueen's famous 12″ armadillo platforms, and Noritaka Tatehana's heelless towers, a giant chocolate McQueen shoe, several varieties of shoe stockings, and a pair of shoe earrings by Yottoi. And for those in the market for an actual shoe, there's one centerpiece version on display: A $4,100 Tatehana in black or white.
Admit it, you've always wanted cookies in the shape of someone else's shoes. Mm, feet. That's what you've been thinking holiday seasons past. Gaga knows.