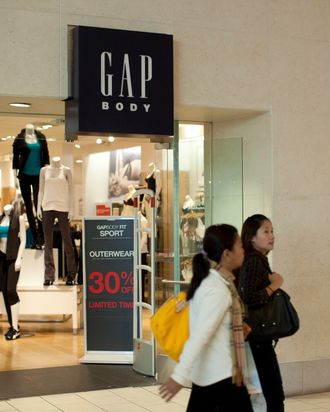 Yesterday, Gap Inc. warned investors to brace themselves for some rough numbers: the company's net income for the third quarter dropped over a third compared to this time last year. Although this year's rocketing cotton prices are partly responsible for the dive in earnings, Gap Inc. CEO Glenn Murphy admits that it's mostly because the company's main retailers — Gap, Old Navy, and Banana Republic — just haven't been designing very stylish clothes that people want to buy.
Reports WWD:
"The shortcoming of our team in 2011 is hitting the sweet spot of optimistic American casual style," Murphy said during a conference call. "When we go after the optimistic American casual style, customers resonate with the brand. There is an association and definitely a demand.…The company has not executed this year the way I would have liked."
On the upside, Gap Inc. has had some success with their expansion in China, and the company's investment in workout-wear label Athleta has been fruitful.  But the Gap label itself has been struggling for years, and hasn't fared any better since the departure of Patrick Robinson a few months ago. Hopefully investors (and well, shoppers too) can look forward to some more compelling offerings in the new year.