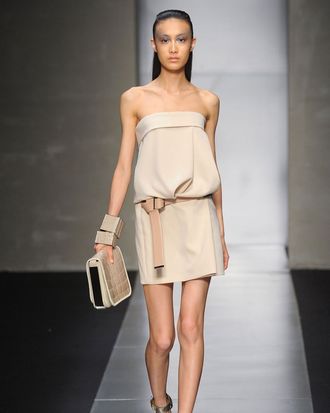 A look from Gianfranco Ferré's spring 2012 collection, Citron and Piaggi's debut.
Photo: imaxtree/Alessandro Lucioni
Gianfranco Ferré's owners, the Dubai-based Paris Group, officially announced the appointment of Stefano Citron and Federico Piaggi over the weekend. They replace Tommaso Aquilano and Roberto Rimondi, who left the label back in April. The pair, who previously served as co-directors at Byblos and Mila Schön, were still considered 'unknowns' when brought on in July as "freelance designers." Even at such short notice, they produced Ferre's spring 2012 collection — the label had skipped both its pre-collection and menswear line in the interim prior to their arrival — which showed in Milan in September to mostly positive reviews.
That the official word on their hiring comes perhaps late is no surprise given recent problems at the label, and the much-rumored conflicts between Paris Group's owners and pre-existing Gianfranco Ferré executives. And, after all, Aquilano and Rimondi were let go as creative directors without any official statement, so maybe they're just shy about announcing things.