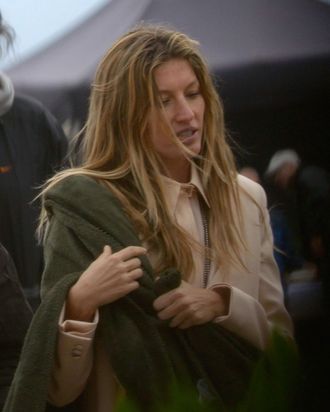 Gisele on the beach in Barcelona.
Photo: Vincent Abos/2011 Vincent Abos
Gisele Bündchen was spotted yesterday morning in Barcelona with Riccardo Tisci, wearing Givenchy's spring 2012 collection, flanked by cameras and assistants and all the other kinds of things that go into a photo shoot. So it seems quite likely that the outrageously wealthy model will star in the label's spring ad campaign. This comes after last month's rumors that the campaign was shot in Jamaica with male model Noah Mills and hairstylist Luigi Murenu, after some mysterious tweets suggested such. It's unclear what that shoot was for, but there's talk of Bündchen also landing Versace's spring campaign.