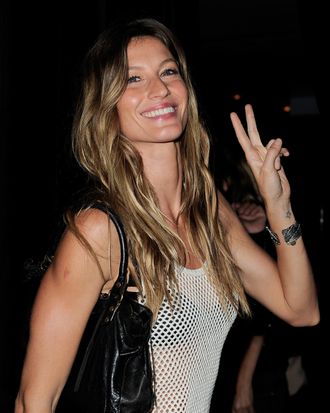 Gisele: promoting a message of global unification with just one pose.
Photo: Kristy Sparow/WireImage
Earlier this month, Stockerblog performed the modern business journalist's favorite semi-annual activity these days: an analysis of Gisele's earning power. Rather than just speculate about how much she makes from her various endorsement deals, they made a chart comparing how some of the publicly traded companies she has contracts with compare to the Dow Jones Industrial Average. The Gisele companies they charted include Volkswagen, Polo Ralph Lauren, and Procter & Gamble, among others, the total performance of which they have dubbed The Gisele Index.
The Gisele Index is UP 41% since January 2007 versus the Dow which was DOWN 4% during the same period. Since January 2008, Gisele was up 39% versus a drop of 4% for the Dow. And since January 2009, Gisele rose 67%. 
Well, that settles it: Gisele for president!!!