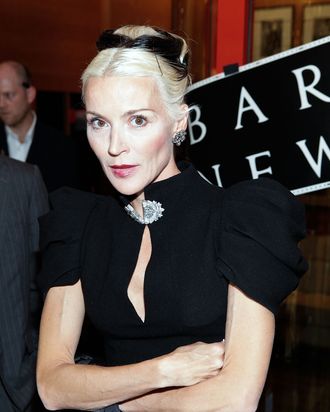 Daphne Guinness.
Photo: Paul Morigi/2010 Getty Images
One of the principal backers of the exhibition of Daphne Guinness's clothing collection at the Fashion Institute of Technology is Israeli diamond magnate Lev Leviev. F.I.T. credits "the generosity of LEVIEV Extraordinary Diamonds" for their sponsorship online. However, Leviev's association with the exhibit is now under some scrutiny because of alleged human rights violations and his company's apparent flouting of international laws.
Leading the protests is New York–based Adalah-NY, though the burgeoning movement also includes Jewish Voices for Peace and Code Pink. In an open letter posted on their website (also sent to F.I.T and Daphne Guinness herself), Adalah states that "Lev Leviev's companies have become notorious for their involvement in Israeli settlement construction in violation of international law in the Occupied Palestinian Territories." They also note that international organizations such as Oxfam America, CARE, and UNICEF have "all sought distance from Leviev's companies."
The letter continues to note that Leviev-owned diamond mines in Namibia and Angola fail to adhere to the worldwide diamond industry's Kimberley Process, and have been accused of a litany of human rights abuses —  including mass firings of workers on strike, torture, rapes, and murders. Addressing Guinness as a champion of human rights, and women's rights specifically, Adalah concludes:
We feel confident that you do not wish to tarnish your name and good works by associating yourself with Leviev's companies' human rights violations and questionable business practices. Leviev's companies undermine the very rights and humanitarian causes that you support. Therefore, we call on you to act swiftly to sever all ties between the exhibit at F.I.T. that bears your name, and Lev Leviev.
While Guinness has yet to respond to Adalah's petition, a F.I.T. spokesperson says the museum received notice of complaints on November 21, and is "pursuing the matter very actively." Adalah members have since added they will soon raise their protest's profile by distributing flyers outside the museum, should F.I.T.'s course of action not satisfy their expectations.